The past few years have been active ones for quality custom home builders on Cape Cod. Certainly the team at REEF has been busy. Many of our Customers are enjoying their first home building experience with REEF. Their Cape Cod home has been a dream, and it's our pleasure (and responsibility) to make that dream come true.
Frequently we find that our Customers have little understanding of how many different trades are involved with actually building their home. Excavation, foundation, framing, insulation, plumbing, electrical, siding, roofing, cabinetry, windows, doors, tile, trim, plastering, painting, alarm systems, irrigation…the list of various experts involved in the construction of a single home is startling to some folks.
Our business model allows us to select the best craftspeople for the specific job, as well as those delivering the best value for the work. One of the challenges on Cape Cod is available resource. Because REEF always has multiple projects underway at different stages of completion, we keep quality tradespeople busy, which allows us to schedule effectively, and guarantee delivery.
That said, the number of tradespeople required and employed by the home building industry is astounding. The National Association of Home Builders (NAHB) keeps track of such information, which is very enlightening:
How many Subcontractors does it take to Build your Cape Cod Home?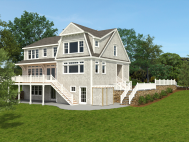 How many Subcontractors does it take to Build your Cape Cod Home?