Here's a great list of things to consider when you are planning to build your new custom home on Cape Cod. After designing and building nearly 1,500 new home, renovation, and addition projects here on Cape Cod, we decided to put together a list of important considerations for those looking to build. This list will be helpful when selecting a piece of land or property for a new home project or renovation, and provides a list of questions to ask your prospective designer or builder.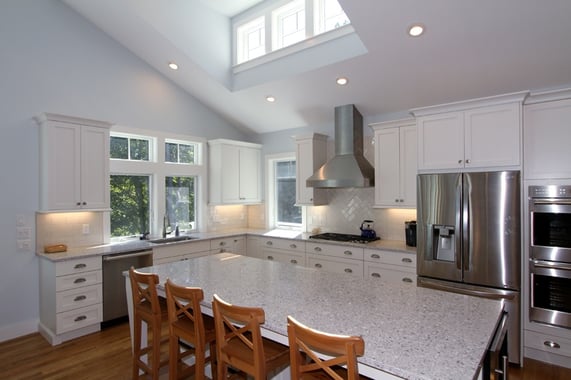 Ask for references from your builder and designer, and follow up with them, ask about the overall experience
Ask about your builder's warranty program and manufacturer's warranties
Get your designer and builder out to your prospective home site BEFORE you decide to purchase the property
Ask how long it will take to get the design, permitting and engineering done, and expect that timeline to increase for waterfront or other properties near wetlands or sensitive areas
Set a realistic budget BEFORE you purchase land (Click here for REEF's Construction Cost Guide)
Make A Wants List & A Needs List, it will help set priorities for the design and budget
Ask the builder or designer for a list of vendors they work with, and visit with them
Ask how the interior and exterior finishes are selected
How are changes handled, both before and during construction?
Ask to see change order documents and other forms used during construction
Ask about fees the designer or builder charges for their work
Examine the cost estimate in detail and ask for clarification of each line item
Mentally visualize your floor plan, or ask for a 3D rendering to better understand your new home
Consider views, natural light, and window options
Understand the property you are buying and review boundaries and set-backs with surveyor and builder
Consider a walkout basement or drive under garage on sloping lots
Start your budget planning with Landscaping, as most people defer landscaping to the end of the project when the budget may be exceeded
Ask to walk the property with the builder prior to clearing and identify and save large trees if possible
Research the property tax rate so you know what the real estate taxes will be for your new home
Expect to pay more than you originally planned, and understand what is included with your contract
Use the highest quality materials available within your budget, it will save money in the long run
Ask your builder what is not included or specifically excluded from your contract
Plan for an outdoor living area, furniture, play areas etc.
Use proven, energy efficient systems with a strong performance track record
Examine the options for vaulted or cathedral ceilings to enhance the feel of important rooms
Include a convenient location for laundry areas, preferably near bedrooms
Ask about Universal Design or Aging in Place design for retirement homes
Design a walk-in pantry area
Consider multiple work / prep areas in the kitchen
Choose low maintenance materials
Create a light fixture and bath fixture list by room
Set a budget for closet storage systems and shelving
Include dimmers on light fixtures, both interior and exterior
Do not put covered porches on the north-facing side of homes
Consider additional exterior outlets on walls or roof lines for outdoor lighting
Create a separate space for an office / hobby/ or other flex space, away from the main living areas
Ask about the details, and take the time to read the manufacturers warranties and user guides for your selected products and finishes
Design with tall ceilings wherever possible
Use additional trim, moldings and details to dress up the home exterior
Install spare conduits in a few locations in the home for future wiring, speakers etc.
Review furniture layouts before your build, and inform your designer and builder of any special furniture pieces you might be considering
Insulate with the highest grade material available, the long term cost savings are huge!
Take time to study floor plans and elevation drawings, changes on paper are inexpensive, after building has started, changes are very expensive
Ask your builder to provide a construction schedule and determine a completion date
Visit local home shows to see new products
Meet with the local building inspector do ask questions about house size, orientation or other restrictions
Consider interior and exterior finishes that are timeless and tasteful, it will enhance the long term value of your new home
Consider efficient use of spaces in the home, every square foot costs money and you want to get maximum use out of each space
A well designed, efficient home may not have to be as big as you think!
Design a house that will serve your needs in the short and long term - it will add value
If you are looking for a designer or builder for your new custom home on Cape Cod, Contact the team at REEF Builders today!
"You've been coming to the Cape your whole life, Isn't it time you stayed?"