New homes for sale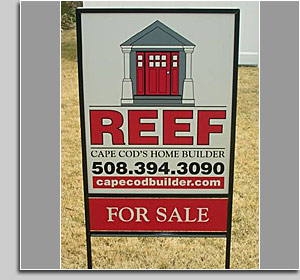 Welcome to our New Homes For Sale section! This portion of our website highlights homes which are to be built, are under construction, and houses that have been completed and are for sale. You can pick out your own lot and even customize! Check out the great New Homes on Cape Cod we have advertised…
For Sale
1171 Shootflying Hill Rd. in Centerville
SOLD!! 12/2011

SOLD !!

#51 COVE ROAD, WEST DENNIS
$995,000

DR STANTON SUBDIVISON
(SCARGO KNOLLS)
Move to Scargo Knolls and let us build your dream Cape home with all the amenities—Lot and house packages from $600's.

New homes from the $600's

SOLD !!

Lot 11, #47
$249,900 (.45 acre)

SOLD !!

Lot 03, #42
$249,900 (.46 acre)

SOLD !!

Lot 04, #50
$249,900 (.51 acre)


Lot 05, #54
$289,900 (.82 acre)
Lot 06, #58 - SOLD!!

$249,900 (.53 acre)

$249,900 (.48 acre)



*REEF HAS EXCLUSIVE RIGHTS TO BUILD ON ALL LOTS

*IF YOU ARE WORKING EXCLUSIVELY WITH A REALTOR PLEASE HAVE YOUR AGENT CALL REEF!
Sold
To find out how you can get an elegant Cape home like the ones below, in the great Scargo Knolls subdivision in Dennis, please call for details or click here to contact us for more information.
A dream home like this could be yours! Call now to find out how!